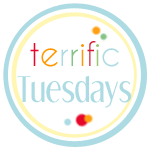 Today I am featured over at

Whatever Dee Dee Wants

with my DIY kid's placemat. I am participating in her Terrific Tuesdays series. Each Tuesday throughout the summer, she presents a kid friendly craft to not only help keep the wee ones occupied on those long summer days, but also to help parents devote their time and attention their kids...and just their kids! I really love this concept because I firmly believe in the saying, "To a child, Love is spelled T-I-M-E." Making memories with our children is crucial and if you can rid your summer of those dreaded words, "I'm bored", then it's double the points! If they don't want to make art, I'm sure the garden always needs to be weeded!
Also, I have a few things on my to do list this week. Or should I call it my "get to do" list, because really, making this stuff is a privilege - not a chore! I went through my bookmarks, new and old, and gathered together some pretty little projects. I think I will go ahead and share my list with you today!
Loved your visit! Until next time...